Audio Hijack Pro, developed by Rogue Amoeda, is life changing application for anyone who listens to any form of audio on their Macintosh. Rogue Amoeda offers a variety of cool applications, mainly catering towards audio applications. Audio Hijack Pro can be dowloaded from their web site and a demo version is available to try out. This demo though allows you to record only 10 minutes of audio before it adds static to make the audio inaudiable. Of course, this can be removed by purchasing the program for only $32.
Audio Hijack Pro (AHP) allows you to record any audio on your computer into a variety of different audio formats. It has advance features to add effects to increase the sound quality and to give it a different feel in music. One of the great features in AHP is it's ability to set timers and record Internet audio broadcasts without any interaction from a user after the initial set up.
Let's quickly look at how Audio Hijack Pro works. Firstly the word hijack is very appropriate here because the application literally hijacks the audio broadcast from your Macintosh. Technically, OS X – the operating system on the Mac – uses a technology called CoreAudio to handle all the audio that goes in and out of your Macintosh. This allows a program like AHP to access CoreAudio before it sends its signal in or out, hijack it, and then manipulate it in any way it likes. Its main purpose is to digitalize it into a file on your hard drive before it sends it back to CoreAudio to output to the speakers, or it can mute it so no one can hear it. AHP has its own set of features which enables it to launch programs, tune them into specific Internet broadcasts and then record them.
A real life example for recorded broadcast is what I do every weekday, as I record the breakfast show from BBC Radio 1 which is broadcasted live each weekday, or Sunday through Thursday evenings here in California. I've set up AHP to record BBC Radio 1 Live. I did this by making a bookmark to the Live stream within Real Player, and then selecting the bookmark from within AHP. This is a wonderful feature within AHP as it actually reads Real Players bookmarks and list them. So if you make changes within Real Player, it will automatically change within AHP. Once the source has been chosen, you can set up the schedule within the same window. Simply select the times and the days you wish for it to record, and the automatic timing is set. AHP even wakes the Mac up if it is sleeping, as long as a password isn't required to wake up.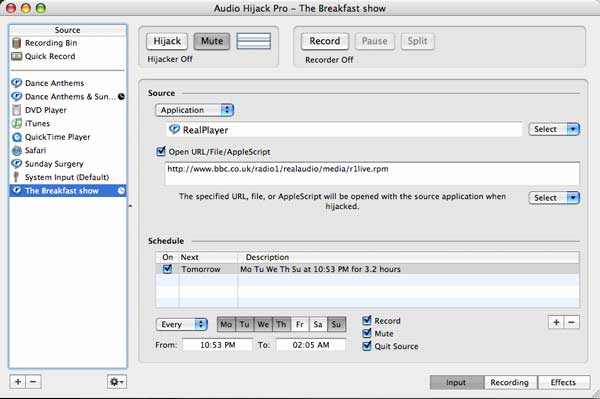 At the bottom of this window is the Recording Button, which once clicked will show you all the recording features. You can choose from a list of different formats within AHP. For this broadcast I always choose 192kbps AAC (Bookmarkable) as this gives me a good sound format and also always me to make the file Bookmarkable. For those who don't know, Bookmarkable files was a feature added to iTunes when it started to sell and play AudioBooks. Audiobooks and a long broadcast such is the Breakfast show aren't always played in one go. Instead of having to remember where you last left off, iTunes does this automatically. This becomes really handy when you integrate your recorded music within iTunes and an iPod. (More on that soon.) On this window also select "Add to iTunes" in the scripts pull down menu.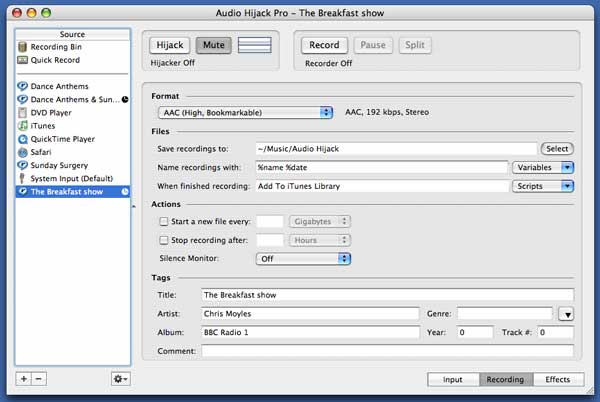 Now, once the broadcast is recorded it will automatically open iTunes and add it to its library. I have Smart Playlists in iTunes that push this new file into a variety of different playlists. One is sent to a Master playlist of all Audio Hijack recordings I make – smart playlist with "Audio Hijack" in the comments – and another playlist takes in the last Breakfast Show I recorded. iTunes is also set to automatically update this particular playlist with my iPod. This setting is within the Preferences Window of iTunes under iPod. So now, without touching anything, the latest recording is automatically on my iPod. I can then take my iPod on the road and take the BBC broadcast on the go with me. The great thing about the bookmarkable feature is that I can listen to the broadcast on my iPod for an hour, 30 minutes each way to university, and then attach the iPod to my Mac and it automatically updates the last place I listened to the broadcast. When I start playing it on my Mac, it starts from where I left off on my iPod.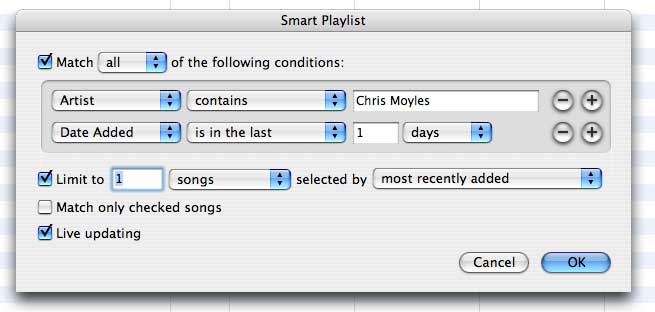 From iTunes, I can also archive and change any of the ID3 tags – the data stored for the Artist, album, etc – for any mp3s and AAC's that I create. Just a quick side note, AAC is far more superior than mp3s and are also a standard format so that you can play them back on virtually any decent computer. You can do so much more and really takes things on the road with AHP and iTunes. You can build an entire library of audio clips, interviews and live broadcast as well as to simply take these broadcasts on the road with your iPod, which is also called, Pod Casting.
Audio Hijack Pro is an excellent program that you really need if you enjoy being able to listen to internet radio when you want to. Try out the program and really mess with it. Once you start using it you realize this is the program that you just can't live without!